As summer ends, and fall is over the horizon, parents in Niles go into "panic mode" as they desperately try to find a high-quality preschool somewhere nearby. The same thing happens in Union City just next door.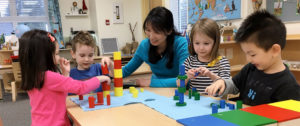 However, if you are a parent looking for Niles preschools there is no need to hit the panic button just yet, because at Learn And Play Montessori we are still open for enrollment for the fall. Maybe not for a lot longer, but at the moment we still have some places. They do tend to get snapped up very quickly because parents who understand the Montessori method of learning want their child in.
Our Niles campus has no less than nine large classrooms with plenty of natural light. We also have a large playground with lots of games and plenty of trees giving shade to encourage the children to explore. There is even a separate area for the toddlers to play in.
We are open for children from 2 to 6 years old and we open at 7.00 am and stay open until 6.30 pm, so we are ideal for parents who have to work, whatever your hours may be. What's more, we don't close down for three months in the summer as the public schools do.
Very Convenient For Union City Too
Although we are physically in Niles – in Niles Blvd, just by Quarry Lakes Recreational Area – we are very convenient for Union City parents as well, since we are only a minute's drive over what you might describe as the "border". In fact, we don't recognize any such thing as a border, since we have a great relationship with many Union City families who bring their child to us because they prefer the Montessori method of early education.
The Montessori method is very different from the traditional methods of teaching because it respects each child as an individual with his or her own tastes, likes, and dislikes. Every classroom has a huge store of Montessori materials and each child is free to explore them and to select something that catches his eye. What happens is that the child is learning about something because it interests him, instead of sitting listening to a teacher. Since he finds it of interest, he will want to learn more about it, and he uses all five senses to explore and find out more.
Put simply, in the Montessori method in our Niles preschool, the child learns because he wants to learn rather than being told what to learn.
So if you are looking for Niles preschools for your child this fall, please come and take a school tour. We still have places, but they won't be open for very much longer.