Children never stop learning. They learn whether you're teaching them or whether you're not. The last thing you want to do is stop teaching your child during the shutdown. We're here, both online and planning to be so in person, to help with childcare issues.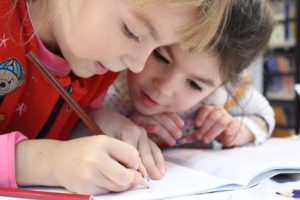 Tune in to us on Facebook live to enjoy our digital training for kids as young as 18 months. And, as we begin to reopen, consider enrolling into our childcare the Montessori way in Fremont, CA. We plan on reopening our campuses as soon as the State of California allows it for safety reasons.
We have four campuses in Fremont, in Niles, Peralta, Irvington, and Maple, and in the course of the next few weeks, we are opening a further campus in South Fremont in Fremont Blvd. This means that wherever you live or work in Fremont, we have a campus that is convenient for your child.
We take children from the age of 18 months up to 6 and we open at 7.00 am and don't close until 6.00 pm. This means that whatever your working hours are as a parent you can drop your child off at a time that suits you and collect him or her again when you have finished work.
Large, Airy Classrooms
All of our campuses have large and airy classrooms with lots of natural light because we believe that is better than lighting inside the classrooms, although we have that for times when it gets dark, of course. Each classroom is filled with a wide choice of top-quality Montessori materials and the children are allowed to walk around the classroom and choose whatever catches their eye.
This means that each child is learning about something in which he is interested, rather than sitting listening to a teacher talking. This instills a lifelong love of learning in each child because they quickly begin to enjoy learning. The teachers keep an eye on what the child is doing, and when the time is right will introduce him or her to some new material. This is what we mean by childcare the Montessori way in Fremont, CA.
Each of our campuses has a large playground that is secure and gated so that the children can play outside whenever possible and also start to study nature.
Of course, at the moment all our campuses are closed since we are adhering strictly to the State guidelines and will continue to do so. However, we are keen to re-open as soon as it is possible so that all of our children can once again continue their education as usual. Meanwhile, we have a program of lessons available on Facebook Live, YouTube, and Zoom. You can read more by clicking on the Enroll in Remote Learning link at the top of the page.