Fremont, California, has many wonderful things to choose from. From parks to schools to apartment complexes to restaurants, Fremont is a city of choice here in the Bay Area.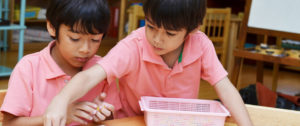 Well that's also true for preschool programs. There's public. There's private. And among private there's Montessori. And among Montessori there is Learn And Play Montessori.
If you are looking for Fremont preschool programs, you actually have a choice of no less than FOUR Learn And Play Montessori preschools. They are in Niles, Peralta, Irvington, and Maple, so wherever you live or work in Fremont, there's a Learn And Play Montessori near you.
Not only are we convenient to your locality, we are also convenient timewise. We open at 7.00 am and we don't close until 6.30 pm, and we take children from the ages of 18 months to six. This means that whatever your working hours are, we fit in around you, rather than – as in the case of some preschools – you having to fit in around them.
Our Fremont preschool programs start with Morning Care from 7.00am to 8.00 am and then you have a choice of programs for the rest of the day. There is the half day program which runs from 8.30 am to 11.30 am, and you can choose between two, three or five days a week. Extended day programs run from 8.30 am to 2.30 pm, with a choice of two three or five days a week, and the full day programs run from 8.00 am to 6.00 pm with a similar choice of days.
After School Programs; a Fremont Preschool Can Help
Then we have two after school programs, one from 11.30 am to 6.00 pm, and one from 2.30 pm to 6.00 pm, both provided five days a week. Not only that, we are open year-round – we don't close down for three months in the summer like the public schools do. In short, whatever your needs for Fremont preschool programs, we've got you covered.
Our campuses all have bright and airy classrooms with a lot of light. We believe natural light provides the best atmosphere in which children can learn. The classrooms are all full of Montessori materials and the child is free to roam the classroom and choose whatever materials he finds interesting. This is one of the founding principles of the Montessori method: the child learns about whatever it is that he has chosen because he is interested in it and therefore actually wants to learn about it. This is very different from sitting down and listening to a teacher talking about something in which he may have no interest at all.
We encourage all parents to come on to the campus and have a look, in order to see how well our children are progressing.