One of the biggest problems with public preschools in Fremont is that they close down for the summer. For three months there is no schooling for your child.  To some extent that might not be a problem if you are a stay at home mom and can take care of your child yourself and carry on with some form of tuition.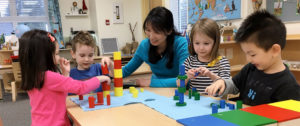 However, if you are working parents, or even a single parent who has to work, what do you do with your kid or kids in June, July, and August? It can be a nightmare.
Well, the good news is that at Learn And Play Montessori we have summer preschool programs in Fremont at no less than four different Fremont campuses, in Niles, Peralta, Maple, and Irvington, so there is bound to be one near you, wherever you live in the city. The even better news is that we are Montessori, which is very different from the teaching that your kids get in the public schools.
There is none of that sitting down on the floor listening to a teacher talk to you here. Our kids learn by doing, and they use all their five senses with which to do it at our summer preschool programs in Fremont.
Large, Airy, Bright Classrooms
All of our classrooms are large, airy, and bright, because we have enlarged and extended windows to let in as much natural light as possible. There is a plethora of Montessori materials, and the way that the Montessori method works is that the child can wander around the classroom and find something that interests him or her.
We don't tell the child what to do. Rather, he decides for himself what he would like to do.
The logic behind this is very simple, but also very clever. Because the child picks up material which interests him, he learns about it because he wants to learn about it. He wants to explore. He wants to find out more. Instead of being forced to listen to something that he may not understand, or may find totally boring, he very quickly learns to love learning for its' own sake. If you think about it, this would be the same for all of us: if you find something interesting, you are going to want to delve deeper.
This is how the Montessori system works and why it works so well.
Summer is only just around the corner. Come and talk to us at your nearest Learn And Play Montessori and find out about our summer preschool programs in Fremont. You may very well find that after a few weeks with us, your child may not want to go back to public school after all.