Not every provider of preschool education can speak in the plural. They might have one of the best preschools in Fremont, but not more than one. Well, we have FOUR locations in Fremont, and all of them are among the best, if not the best, preschools in Fremont!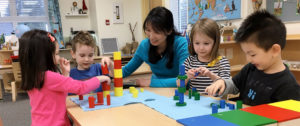 Learn And Play Montessori provides preschools in Fremont for children from 18 months to 6 years and, yes, we have four of them – Niles, Peralta, Maple, and Irvington, so wherever you live you have a choice of the best preschools in Fremont almost on your doorstep.
You might well ask why we have four locations, and the short answer is because of the demand. We started out with one preschool, but very soon began getting inquiries from the other side of the city from parents who had been recommended by their friends and family who had children at our campus.
However, driving across the city before going to work – sometimes in the opposite direction – was too much for many, much as they wanted their children to attend Learn And Play Montessori. So we decided to open a second preschool in the area where many inquiries were coming from. This led to a third, and then a fourth, and who knows – we may start a fifth? Or even a sixth? If there is enough demand, Learn And Play Montessori will do it.
Montessori Preschool: a Great Option for Fremont Parents
Some people may not be fully aware of the Montessori method so the best thing we can do is to quote the lady herself from over 100 years ago: "Education is a process carried out by the child and is not acquired by listening to words but by experiences in the environment."
In other words, children learn by doing rather than by sitting listening to someone talking to them. How right she was! When you were a child, maybe you learned to climb a tree, but you didn't learn how to do that by listening to someone telling you, but by climbing the tree. That taught you what to do so that when you came across another tree you could climb that too.
At Learn And Play Montessori we are regarded as the best preschools in Fremont because we follow that principle. Your child learns by doing. Not only that, he has choices. He can choose what it is that he wants to do, and that very quickly makes him learn to love learning, so he wants to do more of it. Our teachers act as guides for each individual child, not as instructors telling him what to do. We watch what the child is doing and then encourage him to do more.